Press
Upcoming Event:
Bike New York Expo, Friday, May 3, 6-7pm
NycCarAccident.net collaborators Carol Wood and Adam White will discuss insurance coverage for cyclists at this expo preceding the Five Borough Bike Tour.
By Victoria Bekiempis
The Village Voice Runnin' Scared, Tue., Feb. 28 2012
By Ashley Lofters
Dollars & Sense: Baruch College Review of Business & Society, Mar 14th, 2012
New York State Senate, District 26, May 2012
Links
Physical Activity and Nutition/Cycling Resources
Bike Safety for Delivery Workers
These two DOH Web pages added links to NycCarAccident.net in August 2012. This is the first-ever mention on any City site of what you should do if hit by a car, beyond calling 911. Thanks to Comptroller John Liu's office for making it happen!

Press Kit
Please let people know about this free resource by liberally reposting our link, press release, business card, or wallet card. We have also prepared a list of recommended actions for public authorities.
One year after launching, traffic is strong from search engine and direct traffic (700-900 unique visitors per month), and several of the robust links above and below. But we're still relying on word of mouth to get the news out to crash victims. Apart from the intrepid reporters above, the media do not yet think it's important or newsworthy to inform 1,300 car crash victims per month of their rights. As a not-for-profit venture, we have no cash for advertising. Pas un sou.
So we're relying on the wisdom of the crowd to get this information to people who need it. If you can send it to one friend, that would be great! If you know anyone in healthcare or social services, that would be even better! For further information, please email: contact@NycCarAccident.net.
And thanks for the Tweets, sweets! (and blog posts, etc.)

From newyorkshitty.com. Check out the wonderful street photography here.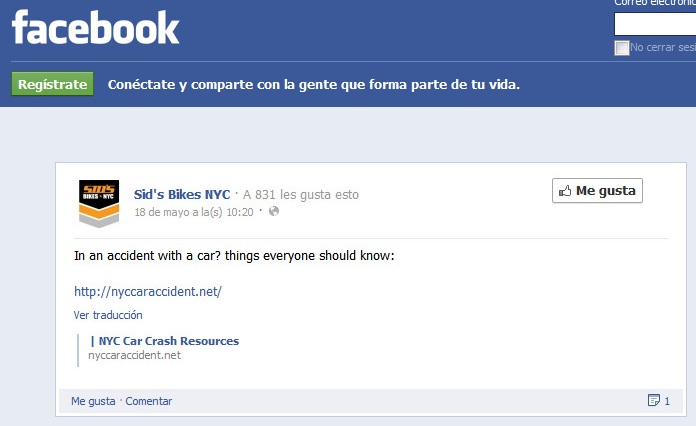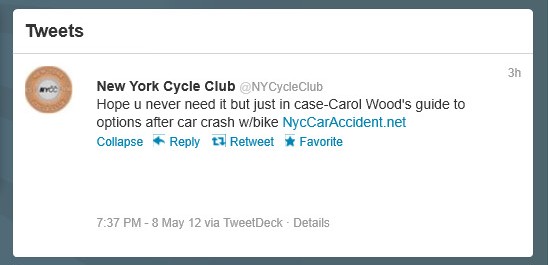 Hit by a car in NYC? #NYPD may not care, but Carol A. Wood does. Check out her incredibly useful site :: t.co/qkIYIWut

— Gage+DeSoto (@gagedesoto) March 24, 2012
♻ @gagedesoto Hit by a car in NYC? #NYPD may not care, but Carol A. Wood does. Her incredibly useful site: t.co/GHv6YOqn #BikeNYC

— jymdyer (@jymdyer) March 24, 2012